Sand recycling machine which is also called fine sand recycling machine, fine sand recycling system, fine sand collecting machine, sand recovery machine, fine sand recycling equipment.
Existing artificial mechanism of sand production line, the vast majority of the wet process, irrespective of the form of sand washer, the biggest drawback is fine (below 0.2 mm particles) erosion is serious, some even lost more than 20%.Not only the loss of production, but also seriously affect the distribution of the sand, the grading is not reasonable, fineness modulus increase, greatly reduces the mechanism of sand quality of the product.Not only increased the dosage of the cement in concrete mixing, raise the cost of business propose, and too much fine sand discharge, also can cause the waste of land resources and the environment pollution.To solve above problems, our company successfully developed a series of YC fine sand recycling equipment, this equipment is our company absorbing foreign advanced technology, combined with the customer in the actual production of sand erosion is specially designed for high-tech environmental protection equipment.
Fine sand recycling machine in practical application, don't need an additional water, extraction of discharge of waste water in the original recovery more than 85% were washed away in the sand or ore, directly adding finished pile or separate storage used as high grade material, directly for clients save comprehensive economic benefit is more than 15%.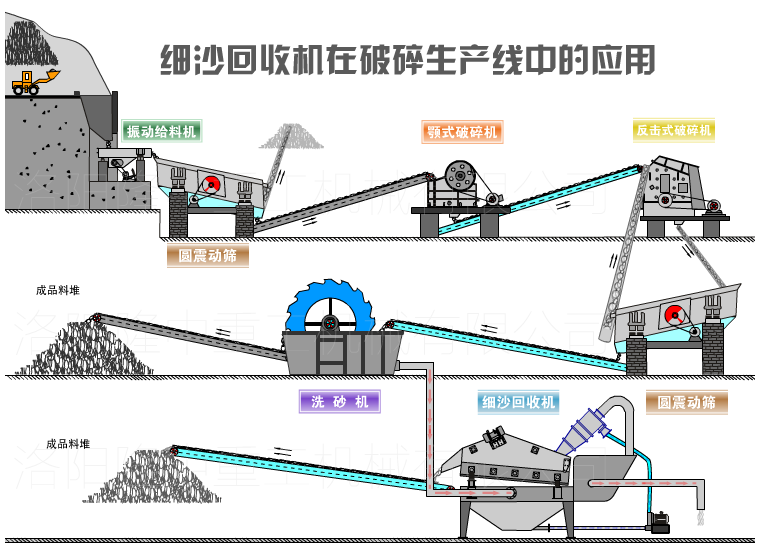 This equipment is widely used in hydroelectric power station sand aggregate processing system, glass raw material processing system, the artificial sand production line, coarse coal slime recovery of coal preparation plant, and environmental protection engineering (mud purification, etc.) and so on, which can effectively solve the problem of sand production line recovery.

Fine sand recycling machine working principle: special pump centrifugal slag cleaning of the tank in the sand and water mixture to hydrocyclone centrifugal grading enrichment of fine sand by grit mouth for the vibration sieve dehydration, after sieve dehydration, effective separation of fine sand and water, a small amount of fine sand, clay and so on will be returned to the box back to cleaning tank, mixed reflux of mixture in hydrocyclone, to be sent to the cyclone separation again.When cleaning tank level is too high, the discharge outlet.May be changed by changing the centrifugal pump speed, slurry concentration, regulating the overflow of water, replacement of sand mouth to achieve fineness modulus adjustment, so as to complete their cleaning, their dehydration and classification of three functions.
Advantages and characteristics:
1, to reduce the sand erosion, improve the economic benefit at the same time reduces the pollution to the environment.
2, vibrating screen using polyurethane screen mesh, polyurethane screen mesh live longer than other types, and not easy to plug holes.
3, cyclone lining polyurethane, improve the service life of the device, can smoothly complete the slurry concentration, liquid clarification etc.
4, fine sand fully recovery, reduce the workload of settling basin, reduces the cost of tank cleaning.
5, Reduce the stacking time of fine material, can transfer directly to supply the market.
6, after a lot of field test and improvement, reduced spare parts, equipment whole structure concise and efficient, recycling ability strong, easy to operation and maintenance, low operating costs.
7, professional engineers, according to the different requirements of users, design reasonable solution.
8, equipment with reference to the state environmental protection standards, low noise, dust can form a complete set of equipment, construction environment in full compliance with environmental requirements.
Model

Centrifugal Pump

Hydrocyclone

Dewatering screen

Capacity

(m3/h)

Weight

(Kg)

Power

(Kw)

Material

Specification

(mm)

Specification

(mm)

Power

(kw)

GD10-25

7.5-11

Cr26

250

1000×2000

1.5×2

30-80

2550

GD10-30

11-15

Cr26

300

1000×2000

1.5×2

40-100

2700

GD12-55

15-22

Cr26

550

1250×2500

2.2×2

100-200

3750

GD12-65

18.5-30

Cr26

650

1250×2500

2.2×2

120-250

4245

GD15-65

18.5-30

Cr26

650

1500×3000

3×2

150-275

4900

GD15-75

37-55

Cr26

750

1500×3000

3×2

180-350

5650